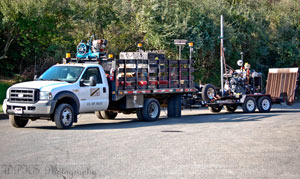 Product:
Reflective markers inserted level with surface of pavement.
Application:
Very fast, only requires insertion into highway surface. Traffic can return immediately. Easy to remove and replace old markers.
Durability:
2 years. Recession into pavement protects the marker from snowplow damage.
Cost:
Moderate; application is quick but requires special equipment.
Best for:
State highways, used to mark toll lanes, passing skips, wrong way markers and other lane markings. Also used to mark municipal fire hydrants.