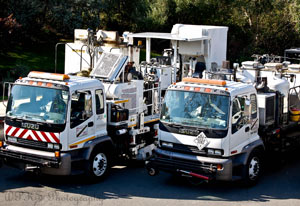 Product:
Surface applied epoxy, composed of two sprayed-on elements which bond to pavement as they are mixed during application.
Application:
Sprayed on by special equipment. Requires 15 minutes or more to cure before traffic can return. A first re-application of epoxy can be done directly over the original markings. For a second application (about every 6th year) all old epoxy must be removed from the surface before the new epoxy can be applied. Can be applied in a wider temperature range than paint or thermoplastic.
Durability:
2 years in most conditions, up to 3 in low traffic areas. Exceptionally durable on both asphalt and concrete.
Cost:
Better value than paint for moderate traffic because of its higher durability.
Best for:
Higher traffic areas in small to medium municipalities; medium projects.