Road and Pavement Painting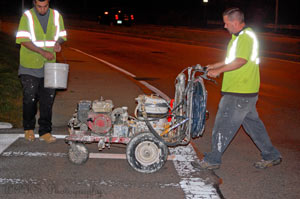 Product:
Water-based or chlorinated rubber-based paint with glass beads for reflectivity.
Application:
Fastest application speed of any medium; dries immediately, so that traffic can return as soon as marking crews move to a new section.
Durability:
1 year. Must be reapplied each year, especially for reflectivity and night visibility.
Cost:
Lowest cost product, least expensive manpower and equipment to apply.
Best for:
Low traffic areas, small municipalities, low-budget projects.